Daily Shipping
We send packages on a daily basis. To ensure you get your products as fast as possible!

Satisfied or Refund
We offer 10-day product guarantee in which you can return your product. No questions asked.

Secure Payments
Industry standard 100% secure payments

---
Huge selection of various MTG products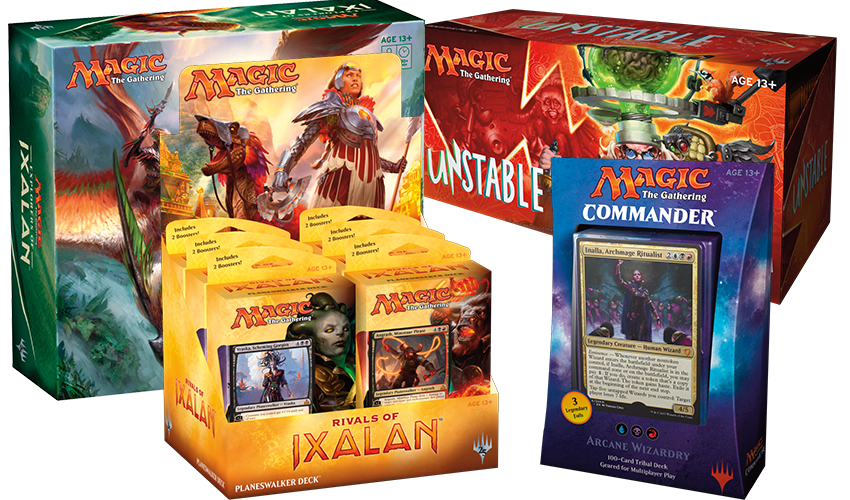 Where to start and what to buy?
Bundles and starter decks are perfect for new players. Or old players returning to Magic: The Gathering. Or if you want something to hold long-term value better, we suggest going for a Challenger deck, or opening a couple of Set Booster Packs. If you're just starting your Magic journey, we envy you.
Drafting is one of the most fun ways to play MTG. You gather a group of 8 people, sit down, and get cracking. After the draft portion of the game, you play individual games against each other. Until there is only one victor! You can buy individual Draft Booster Packs, or an entire Draft Booster Box contaning 36 packs. Note: you need 3 packs per person.
Products for fun & casual play

This might be the best form of all! If you're looking to play with your friends, you might enjoy buying an entire Draft Booster Box and have an hours long game. Or, if you prefer something with a bit more luck and a crazy randomness factor involved, we recommend buying a Commander (EDH) deck. It's going to be very fun - we promise!
Products for opening value
This is for people who love value. Either special eternal sets. Or the newly introduced Set Booster Packs contain amazing value. More foil and rare cards per pack, and some other unique cards depending on the set. There's nothing like the suspense when you get prepared to open some packs. You can buy individual Set Booster Packs, or an entire Set Booster Box with 30 packs.
"They have a big selection of trading cards and good prices, as well as very knowledgeable people working there. This was my first time there, but I will definitely come back again."
Pave S., Zadar (Croatia)
"This shop has an amazing staff and fantastic prices - fully recommend it!"
Sven S., Zagreb (Croatia)
"Easy purchase, helpful staff and overall great selection of products."
Mirko P., Ljubljana (Slovenia)
Follow us on social media